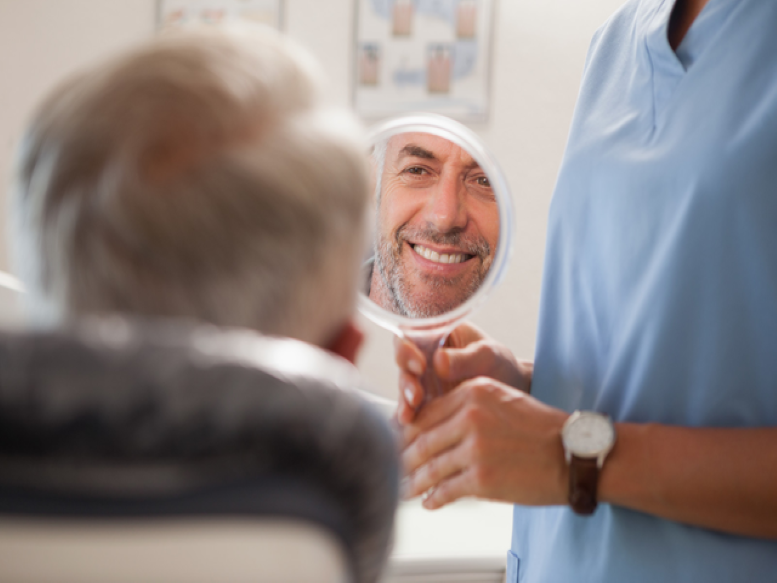 Often, the term dental crown is associated with root canal therapy, a serious surgical procedure which many of us aren't too thrilled about. But dental crowns, and dental crown lengthening, are also separate treatments that can help strengthen and support your teeth, in addition to helping improve the appearance of your smile.
If you're interested in learning more about receiving dental crowns near you, contact our dental clinic today.
What is a Dental Crown? What is Dental Crown Lengthening?
A dental crown is a device that is placed over top of your tooth to protect it. This is typically done when your tooth, especially molars and premolars, is damaged or infected. Your crown can be made of multiple materials including metal, porcelain, ceramic, or resin. Porcelain, ceramic, and resin in particular, are good options if you're wanting your crown to blend in with your smile.
By extension, dental crown lengthening refers to cutting away a bit of your gums with a special laser to make your tooth look longer. This process is permanent since gum tissue doesn't regenerate.
The Process of Receiving a Dental Crown
When you come in to receive a dental crown, it takes at least two appointments.
First, your dentist will examine your mouth and gums, and they may take some x-rays as well in order to establish a baseline of your oral health. A mold will be taken of your tooth so that the crown will fit you perfectly and won't slip out of place. This is sent to the dental lab where your device is fabricated. You'll be given a temporary crown while you wait.
Once the permanent crown is completed, you'll return to receive it. Your dentist will make final adjustments and ensure that your bite is normal before letting you go.
If you experience any sensitivity or are uncomfortable at any point during the treatment, don't hesitate to let your dentist know. You deserve to be relaxed at all times.
Why You Should Consider Receiving Dental Crown Treatment from a Dentist Near You
There are many reasons why dental crowns are a great treatment for you to consider if you're looking to change your smile.
For one, as is the most obvious, it'll help your smile shine since dental crowns can indeed be made to blend in with the rest of your teeth.
Second, it'll help in regard to your daily brushing and flossing regimen. A dental crown is a cap that helps prevent tooth decay, and dental crown lengthening can help prevent gingivitis because you'll have less gum tissue to take care of.
Thirdly, dental crowns are designed to lend support to not only the affected tooth but the neighboring teeth too. If you need any other procedures in the future, like a root canal or an implant, your crown will also help protect your teeth in those instances by decreasing sensitivity and preventing further cracks or chips from manifesting.
Receiving a dental crown, whether at our clinic in Varsity or elsewhere, is a good long-term option, since they can last up to fifteen years. It's important to keep in mind, however, that a dental crown treatment can be costly as it depends on the current state of your teeth and repairs need to be made.
Are you looking for more information about dental crown procedures? Are you ready to book an appointment? Contact us today! Our dentists in Varsity are here to address all your oral health needs and any questions or concerns you may have. We look forward to working with you!